Automated emails have 70.5% higher open rates and 152% higher CTR as compared to 'business as usual' emails.
Triggered emails produce far better results than email blasts because they're based on the user's action and interest.
There are elements of personalization, relevance, and right timing weaved into these emails - just like in one-click upsells!
In this post, I am going to reveal to you the nine types of automated emails that your business needs to up the engagement and sales.
The real reason why you should stick with me is that I'm going to give specific examples under each type of automation and the action tips.
What Is Automated Email Marketing?
Automated email marketing is sending out emails to your customers based on an action they took on your website or based on the triggers that you set.
I will tell you more about the types of automated emails you can send, but you should know that these emails generally fall into two distinct camps:
Triggered email based on an action or event - This email gets sent when a user takes an action on the site (subscribes to the newsletter/abandons the cart/purchases item X) or when an event occurs (hits a milestone/new product gets launched/submits a review).
Drip-content emails - You can enroll people into a drip-feed and send them content at pre-defined intervals of time. Your email subject and body may change based on whether the previous email was opened, whether they clicked on a link in the previous email so on.
Don't confuse it with transactional emails
However, email automation should not be confused with transactional emails.
Transactional emails go out after the order is complete - notifying customers that they've successfully placed the order and also when the order is shipped.
The main objective of these emails is to inform customers and not to strengthen the relationship, prime them for their next sale or engage them.
3 Rebuttal-Proof Benefits of Automated Emails ?‍♂️
There are several benefits of automated emails. Here are the top ones:
1. They Save A Lot Of Your Time 
The most significant advantage of email automation is that you don't need a person to draft an email on the fly and manually hit the send button.
You can carefully plot your automated email strategy, set up the triggers, and go live! It's all a one-time setup and works like a workhorse for life.
2. High Relevance + Right Timing = Higher Open & Clickthrough Rates
Isn't it irritating when you receive emails from a website that is irrelevant to you? It's so easy to slam the unsubscribe button or tuck it into the spam folder.
With automated emails, you know exactly where your prospects and customers are in their journey - so you can send out relevant and helpful content in their inbox.
Did they subscribe? Shoot a welcome email. Did they click on the button in the previous email? Send them to the next automation. No, they didn't? Let's follow up!
3. Personalization That's Hard To Ignore
Addressing them with their first name is one part of the personalization strategy.
You can send emails to your prospects and customers based on the products they bought, order total, and more.
Imagine the limitless possibilities with all those emails!
Plotting Your Email Automation Strategy ?‍?
The objective of email automation boils down to three things:
-- Converting visitors into subscribers
-- Converting prospects into customers
-- Engaging with customers post-purchase to increase their lifetime value
Based on this, you can break-down your automation strategy into three segments:
Pre-conversion automation: It is targeted towards your prospects, to make them aware of your brand, your products, and you.
Automations for people in the decision-making process: Such emails need to lure them with social proof, highlight product details, answer their objections and questions, and press the urgency trigger.
Post-conversion automation: These emails check-in on the user experience, provides links to review the item they've bought and recommended products based on their purchase. If it was a subscription plan they bought - you can have an onboarding sequence in place.
You'll see email automation examples from each of these three segments.
If you already have some automation workflows in place, you can try to improve their low CTR or poor engagement. And if you're new to automation then try to identify the low handing fruits (your quick wins).?
9 Types of Automated Emails With Well-Crafted Examples ?
In this section of the post, we're going to look at the types of automated emails you can send out to your customers.
I'll also share with you examples and action time so that you can implement them too.
Let's dive right in.
#1: Automated Welcome Series
A welcome series goes out to the user when they subscribe to your newsletter and share the email address with you. The content of this email depends on what your opt-in box says.
If you've promised deals - let them know they'll be getting those in the subsequent emails. And if you've promised to offer a coupon code - share it first and then introduce them to your brand.
For example, Sweaty Betty - asks people to sign up to get a 15% discount and free delivery.
Take a look:
The welcome email takes the conversation forward by giving the new subscribers 15% off code right at the beginning.
Notice, their call to action is at the top and not lost in a block of text. It is what makes this email captivating and action-producing:
Also notice, after giving the coupon code above the fold - the email continues to persuade them. They say "we're famous for the bum-sculpting leggings"- So you instantly know their USP (unique selling proposition).
Action Tips: Be sure to carry forward the conversation you started on the website. Give subscribers what you promised right in the beginning - treat your welcome email as an opportunity to start a relationship and set the expectations right.
According to data from Omnisend, automated welcome emails have an average open rate of 45%, versus an average open rate of 18% for promotional emails.
#2: Cart Abandonment Email Sequence 
A cart abandonment sequence is one that gets triggered when someone adds an item to the cart - lands on the checkout page and leaves the process in between after giving their email.
There could be several reasons for cart abandonment, here are some:
-- A technical glitch that occurred while completing the purchase
-- The user got distracted
-- Their card didn't work or payment failed
-- The order total wasn't what they were expecting; hence they voluntarily abandoned the process
It's always good to reach out and check with them what the problem was. As per several studies, you should be sending out three cart abandonment automated emails:
-- 1st email: to generally check if there was a problem (should be ideally sent between 60 mins to 4 hours)
-- 2nd email: goes within 24 hours
-- 3rd email: goes within 72 hours
Here's an example of a well-crafted cart abandonment email from Beardbrand:
There are no images in the email, but it makes for a good read. As per a Hubspot survey published here, more people said they preferred emails with images than with text. However, as per real A/B tests, they found - plain textual emails perform far better than those with pictures.
The above email appears warm, friendly and as if it's coming from a friend or the next door guy, Keith who happens to be a beard specialist. By the way, what a cool designation to have! 😉
Here's another example from Birchbox - it's an email with 25% off, perhaps it's the second or third email in the sequence that people receive: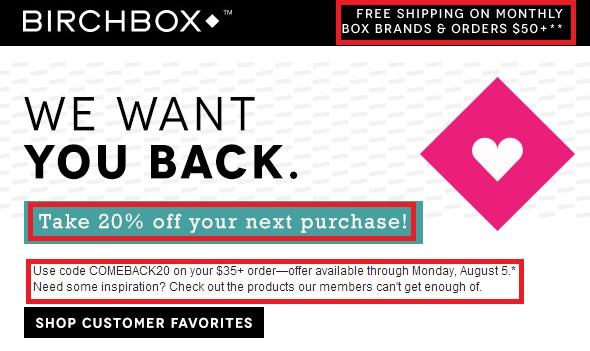 Action Tips: Make sure you don't just create one cart abandonment email - but a series of 3 emails. The first one should offer help and not a discount. The second one may plug a coupon code and go slightly more aggressive on cart recovery. The third one can use elements of urgency (i.e., discount expiring/items running out) to close the sale.
After this process is complete and they still don't buy - add them to your list of newsletter subscribers - to keep in touch and send them promotional emails.
#3: Shipment Check-In Automated Emails
A shipment check-in email is an email that asks customers for their feedback about the shopping experience. This email is different from a product review email where you exclusively ask for a public review of the product(s) they've bought.
Feedback emails are more personalized and encourage them to give an honest assessment - it may be positive or negative. It also shows that you're willing to move the needle if anything needs to improve.
Here's an example from Moo:
The email is brimming with personality and is from a character - Little Moo, the print robot. It's a breath of fresh air to read automated emails like these - they're rare in an inbox full of dull emails howling for sale.
Action Tips: Keep the subject line short and exciting (don't include the order number). Something like - "How was it?" "Did you like what we sent your way?" "Can you spare a minute to share your experience at <>."
Also, tell them what they can do if they haven't received their order yet. Finally, establish the need for feedback and then let them know that the process is not going to take long. A short and textual email is better than emails that have images in them.
#4: Personalized Product Recommendation Emails 
A customer is more likely to open and click on your email after he has bought from you than when he is just a prospect.
So it makes a lot of sense to send them relevant emails containing product recommendations, based on the item(s) they have just bought. Have a look at an incredibly persuasive email from Mackenzie:
Notice, Mackenzie shares a coupon code to encourage repeat buying, and the code has an expiry period of 30 days - that's good.
Action Tips: Recommend up to 3 most relevant products in this email. Avoid exceeding that number. Keep in mind that your new customers are also likely to recommend your store to their friends or relatives. So, nudge them to share by incentivizing them.
Additional Resource: Explore more about sending cross-selling in emails here>
#5: Priming For The Next Sale (Rapport-Building Drip-Feed)
Educational content offers value to your customers while building rapport. It helps promote the feeling that you're invested in their success and aren't after making a quick buck.
Product use cases, ideas, maintenance best practices, or even back-stories that went into their invention or production - can all make a positive impression.
Here's an example of BOOM! By Cindy Joseph. Take a look:
Notice Boom is not asking for a sale here though they're priming readers for the next purchase. It is how you build rapport - you let people know that you're genuinely invested in them, care for them, and are worthy of their trust.
Action Tip: Craft automated emails that teach people about your products, give them ideas on how to use them, and focus on their major pain points. Your emails should make them feel that you care for them and understand what they need to solve problems.
#6: Review Collection Automated Emails
Does it help if I say 61% of people read reviews online before making a purchase? Reviews minimize the risk that prospects would have to take by paying upfront for an item that arrives later.
As per a study conducted by Bright Local, 88% of people trust reviews online from strangers as much as personal recommendations.
Hence, if you want to be a store that people trust, you've got to have a lot of reviews. Reviews are not only good for SEO but also increase conversions.
Here's an incredible example from Biscuiteers, that converts at a jaw-dropping 18% - well above the industry standard of 3%. Take a look:
Can you figure out the reason why it converts so well? Here are 2 reasons why:
The email is on-brand and looks beautiful: The white background makes the text easy to read. Plus headline in pink quickly tells the user what they're expected to do. There's no beating around the bush!
They've featured two reviews on the email - it lets people know what others loved about the store and hence gives them a lead to follow. On a psychological level, it fires people's mirror neurons.
Use this script to ask for a review
I am so glad you chose <insert your website name> and we hope we did take good care of you! Would you be willing to share your experience with other customers? They'd be very interested in hearing what you have to say.

So leave us a review here.

Either way, you're amazing and we love you! 
Here's a nice post on tactics you can use in your review collection emails to get an edge over others.
Action Tip: Make sure you design this email in a way that is on-brand, infused with personality, and the objective is evident in the beginning. Avoid beating around the bush here.
It's a great idea to put a couple of testimonials so that they can follow the lead of the other customers. After they submit the review, send a thank you email to build a strong relationship with them.
#7: Purchase Anniversary Automated Emails 
This email gets triggered a certain number of days after your customers made their first purchase. It may be their 3-month or 6-month anniversary with your shop. Here's an email from True Citrus:
Here, the headline is captivating and curiosity-generating. When they say "Good things come in threes"- one wants to read the paragraph to see what they're talking about. Notice the minimal use of colors - the background is mostly white, so the text attracts attention.
Further True Citrus makes it a point to highlight the deadline of the coupon code for the anniversary sale - i.e., 48 hours!
Action Tips:  Acknowledging anniversaries or thanking people for being a customer or subscriber can lead to increased loyalty, additional sales, and brand advocacy. So do set up automated email sequences on strategic days from the date of their purchase.
If you want to get some more ideas on re-engaging with your customers, here's a very useful post by Neil Patel.
#8: Replenishment Automated Emails
Replenishment emails are sent out to the customer when a product they bought from you is about to run out. Many store owners are missing out on the opportunity to engage with their customers when a product is going to finish by not encouraging them to re-stock.
A study published by Listrack.com found out that replenishment campaigns had the highest CTR compared to any lifecycle emails.
Love this email from Just Right by Purina:
From the question at the top to the call to action button copy -everything is quite aware of what the buyer needs.
Action Tip:  Think of how often your customers would be using the product and hence when you should be reaching out to them for replenishment or refilling. Two emails work better than one - you can send the first one ten days in advance and the other 3-4 days before.
You don't have to offer a discount because they already need the item, so why train them to expect a coupon every time for replenishment? Reminding on time is good enough. Here's an informative post by my favorite, Beka Rice on how to use replenishment emails and the best practices.
#9: Buzz-Building Automated Series For a Product Launch
When you launch a new product on your store, create a sequence of emails for your users and don't just send a one-off email. Let each email lead to the next one.
The first email should simply announce the arrival of the new product in your store. Take a look at an email from BOOM! By Cindy Joseph:
Subject: Meet our *NEW* all-natural Boom… 


The subject line of this email is crafted to create curiosity. The email body shows what product looks like, what it does, and what differentiates it from the pack. The CTA button reads - 'Check out the item' and not 'Buy Now' - which is how it should be.
This first email should be followed up by 4-5 strategic emails that lead people to the sale. These can be about product ingredients, testimonials, FAQs, etc.
Take a look at Boom's email with FAQs:
Here, the subject line of the email highlights the top question which prospects may have in their minds regarding the product.
Action Tip: Plot a series of well-crafted and well-thought emails to educate and then convert them. In the first email, use power words like "Introducing," "Meet the new," "Announcing" - in your subject-line; they capture more attention.
The other automated emails in the sequence can let people know about the ingredients of the product, share the testimonials, emphasize on the FAQs, and the final email can nudge them to buy. Pretty strategic!
Getting Started: Top 5 Free Email Automation Tools
Here are a few free email automation tools that can give you a headstart:
MailChimp - Use the smart recommendations feature, which provides deep insights on the audience, so that you can optimize your marketing efforts. You can easily set up the automation workflows and trigger your emails at crucial milestones of a buyer's journey.
Sender - Create customized, stunning newsletters and personalize them for each recipient to make bigger impact. Track who opened your emails and clicked on the links so that you can optimize ongoing email strategy and build compelling offers for better conversions.
Omnisend - Automate your emails based on behavioral triggers and use audience insights to craft more relevant emails.
SendPulse - Choose from a ton of professionally-designed email templates and customize them. Use the subscriber rating feature to know the read and unread rate of each subscriber and hence, identify your most valuable subscribers.
Zoho Campaigns - Create and segment your emails to send out more relevant content to your target audience. Compare your email campaigns using the testing and reporting features so that you can know which emails work best for your business.
Conclusion
There you go!
How did you like our list of automated emails that your business must send?
Is there an automated series that you'd like to add to it?
Let us know in the comments.
By the way, did you see our interview with Marvin Coffman yet? It's on how he uses WooFunnels to generate $2k extra every month. Gosh! It's so good >>