Today near-on every landing page builder facilitates the creation of WooCommerce custom thank you pages. 
But, with so many businesses going online, you need to distinguish yourself from an increasingly crowded market place.
In short, default WooCommerce thank you pages are insufficient.
The answer? NextMove plus Upstroke
You might not realize it, but the thank you page customers see after they checkout has the potential to be a huge moneymaker.
NextMove provides everything you need to create high-converting thankyou pages, and UpStroke is a handy extra that enables you to upsell customers after they checkout.
Needless to say, this makes increasing your revenue a breeze.
See the testimonial below from, Brian Kelly, a NextMove customer, to get a feel for what we're talking about:
 This plugin has taken my site to the next level. The customisation options allow you to create a great thank you page and in return increase repeat sales and social media visibility.
Impressive, right?
So, continue reading to find out how to create a high-converting WooCommerce custom thank you page and upsells.
Installing NextMove to Create a WooCommerce Custom Thank You Page
As we've just hinted at, NextMove does a wonderful job of converting typical WooCommerce thank pages into money-making machines. Traditionally, you can't modify much of WooCommerce's native thank you pages (unless you boast the coding know-how to do so).
This is where NextMove comes to the rescue.
You can make the most out of the following 17 components to optimize your thank you pages to increase sales and boost brand awareness:
A location map
Collect customer details
Suggest related products to purchase and highlight specific items
Offer dynamic coupons
Insert simple text, HTML, image text, and videos
Insert a cross-selling and/or recently viewed' section
Add order details
Use social share and 'join us,' buttons
Smart bribe
Upsell other products
Provide order confirmation
…and so much more.
To install NextMove, follow the steps below:
Head here to register for NextMove.
Then Download the file "thank-you-page-for-woocommerce-nextmove-v1.x.x.zip" from your XLPlugins Dashboard
In a separate tab, launch your WordPress Dashboard. Then select 'Plugins' followed by 'Add New.' Now click 'Upload Plugins' and upload the Zip file you just downloaded.
Then, hit 'Install Now'
Now, hit 'Activate'
Once the plugin is activated, you'll find a sample page under the 'XLPugins tab' > NextMove. From here, you can activate the thank you page to modify the existing page, or you can add a new page.
You'll also want to activate your NextMove license to receive:
Automatic updates
New features
Security upgrades
Bug fixes
Product notifications
To activate your license, head to your NextMove confirmation email, here you'll find the license key. Copy it.
Then head to your WordPress dashboard. Click the XLPlugins tab, followed by the Licenses page. Now, paste your license key and press the 'Activate License' button.
How To Create A High-Converting WooCommerce Custom Thank You Page – with NextMove
First off, you'll need to launch NextMove from inside of your WordPress Dashboard. Then to create a fresh thank you page, hit the 'Add New' button.
From here, you'll first need to give your thank you page a title.
Now, scroll down the page until you hit the 'Rules' section. Here you can set what actions need undertaking for your thank you page to load. So, in the example screenshot below, this thank you page would load if it was the customer's first order.
Now, to the right of the screen, you need to input the page priority. This is more important once you've created more than one thank you page, as you can prioritize your pages – please note, the lower the number, the higher the priority.

When you're ready, select the 'Publish' button located on the top right sidebar.

Lastly, you need to select the components you'd like to display on your thank you page and then edit and arrange them how you want. Then when you're happy, press 'Preview', and go live whenever you're ready.
For more information on this, check out the handy video below:
8 Must-Have Elements for Optimizing Your WooCommerce Custom Thank You Page
To round up this blog post, we're revealing a few must-have elements to try on your thank you pages. Be sure to split test these features using Google Analytics to monitor their success:
*Please note, all screenshots below are thank you pages created using NextMove.
1. Ask for Referrals
As many as 74% of consumers say word-of-mouth referrals heavily influence their purchasing decisions. This is why you see so many businesses asking you to recommend them to someone.
Take James Clear, author of Atomic Habits as an example.
He now boasts more than 700,000 monthly readers and 350,000 email subscribers – and the primary way he achieved this was by asking for referrals on his thank you page.
He makes this effortless by including a pre-written email where you just have to click the link and press "Send."
For this method to bear fruit, you need a firm grasp of who your core audience is.
For instance, if you know the majority of your target demographic spend their time on Instagram, you're better off encouraging them to follow your Instagram account rather than on LinkedIn.
So, do some research to see which social media platforms your customers hang out on.
To ramp this up a notch, you could even try to leverage the networks of your readers.
Take Michael Hyatt, for example; she incentivizes social sharing by offering readers the chance to win a prize.
3. Demonstrate Authority
As an entrepreneur, you need to do everything possible to position yourself as an expert within your niche. When you're recognized as an industry leader, it becomes much easier to attract high-quality customers.
The best way to demonstrate your authority is to provide social proof. Have you been featured on any blogs or articles? Have you got glowing customer testimonials?
If so, plaster these all over your thank you page (and anywhere else across your sales funnel). This works wonders for building trust and credibility with customers.
4. Offer a Discount
If you're an eCommerce store owner, it's imperative to have a discount strategy.
However, you need to be a tad careful with this.
Don't go overboard. Otherwise, if you offer promotions too regularly, your customers will begin to expect discounts which can cheapen your brand.
The best way to use discounts and/or coupon codes is to reward stellar customer behavior.
Take NatureBox as an example; if you subscribe to their service, you'll get a free sample of one of their bestselling items and 25% off your first order.
Needless to say, this is a fabulous way to get your foot in the door!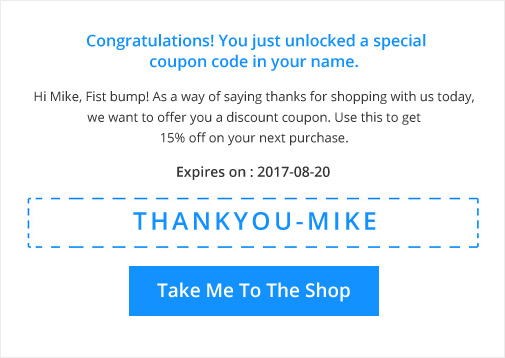 5. Qualify and Nurture Leads
Often, readers are at different stages of their customer journey. This is why offering a choice of freebies on your thank you page is a good idea, as you can then cater your service towards different segments of your target audience.
Take Hubspot as an example. When you become a subscriber, you're given a choice of resources.
If you're at the beginning of your journey, you can read a free eBook or blog post on the topic.
Or, if you're further down the customer journey and you're considering a purchase, you can take a free assessment.
The key takeaway: If possible, offer your audience a choice, they'll know the content they want to consume.
6. Link to Your Most Popular Content
Put your best foot forward by creating and sharing your most popular content.
To develop high-quality materials, you'll need an in-depth understanding of your audience.
Linking the most engaging content on your thank you page not only provides the reader with better user experience, but it also benefits your blog's SEO – two birds one stone.
7. Upsell a Specific Product or Service
Upselling a self-liquidating low-ticket item is an excellent way to cover your ad costs. Take Digital Marketer as an example.
They're well-renowned for selling self-liquidating offers on many of their thank-you pages.
Not only does this recoup most (if not all) of their ad costs, but it's also a valuable way to convert fresh subscribers into paying customers.
Have a flick through some of your current product pages and see whether you already have a low ticket item you could start upselling on your thank you page.
8. Conduct a Survey
Conducting customer surveys will provide you with valuable insights into who your customers are, what they like, what they're struggling with, what they want, etc.
This info empowers you to create highly-targeted messaging that speaks directly to your customers.
The best way to undertake a customer survey is to ask readers to participates immediately after they've engaged with your business.
This is why having a customer survey on your thank you page is a fantastic idea.
Take a leaf out of Neil Patel's book. When you sign up for his webinar, you're automatically directed to a thank you page where you're asked to fill out a quick survey.
Not only does this provide him with the opportunity to qualify prospects for a strategy call, but he also collects insightful customer research.  Win-win!
How Post-Purchase Upselling Can Revolutionize your Upsells
NextMove has a sister plugin called UpStroke. Upstroke makes it possible to create one-click upsells inside of WooCommerce, where they're shown to your customers after they've completed the purchase, but before they reach your thank you page.
Best of all, even new customers can purchase upsells without having to re-enter their billing details.
UpStroke integrates with the following payment gateways to make these one-click upsells possible: Stripe, PayPal, PayPal Express Checkout, Square, Authorize.net CIM, COD, BACS & Cheque.
To get a better feel for how UpStroke works, check out this video:
Other Perks of Using Upstroke
UpStroke's page-building tool comes with a selection of pre-made templates you can customize to suit your needs.
Alternatively, if you opt for WordPress's Elementor, you can use one of the pre-built Elementor templates.
Last but not least, you can utilize your preferred third-party page builder, using UpStroke's shortcodes to create personalized upsell pages.
You can trigger different funnels based on customer details and behavior.
UpStroke comes with a 'rule builder,' which enables you to create a variety of upselling workflows that appear to customers depending on their WooCommerce order details (or whatever specified consumer behavior you've opted for).
How basic or sophisticated you get with your 'rules' is entirely up to you.
For example, you could trigger the launch of your upsell content on any of the following:
Items bought: Offer related products based on the category of purchase, shipment method, shipping address, payment method, etc.
Offers specific to first-time buyers
Past purchases: UpStroke's 'indexing' feature monitors what customers have previously bought. Then, you can tailor your upsell content to complement their pre-established tastes.
…these are just three out of many example triggers, but you get the idea.
You can upsell individual products based on what customers are accepting and/or rejecting.
For example, you can direct customers towards a specific upsell upon the acceptance of the current proposal.
Alternatively, you can funnel customers towards a different upsell if they reject the current offer. Make sense?
You can launch your first upsell funnel within minutes: If you use the Elementor integration, you'll get access to loads of handy features that enable you to get set up incredibly quickly:
Ten Elementor widgets: These widgets empower you to craft one-click upsell pages from scratch – and quickly.
Plug & Play templates: Use a professional-looking template to lay the foundation of your WordPress page's design.
Enjoy a user-friendly experience. With Upstroke, it's easy to change the colors, layout, and add customized CSS code, etc., to your web pages.
Ready to Create Your WooCommerce Custom Thank You Page?
We hope this article has given you a better idea of how to tailor your thank you pages for maximum conversions and how a WooCommerce plugin like NextMove can help you with that.
To recap:
NextMove is ideal for creating professional WooCommerce custom thank you page
UpStroke is the solution for you if you want to boost your upsell game.
Conducting surveys, asking for referrals, offering discounts, etc., are all great techniques for improving your conversion rate.
So, what are you waiting for? Go ahead and take a look at UpStroke for yourself.